Discover some of the best Golf courses in Bangkok
Many of the best golf courses in Bangkok are all within close range of the hotel. Internationally renown for its celebrated golfing facilities, Bangkok is a true golfer's paradise offering superior amenities, scenic courses, friendly service, and incomparable value.
Summit Windmill Golf Club
Designed by legendary Sir Nick Faldo, this 18-hole course is situated on 160 acres, parallel to the airport runway. Lakes, rolling hills, and landscaped gardens dot the par 72 course, leading players over terrain that defies their strategy and elevates their game. For an even more unique experience, reserve your tee time at night, and play on a floodlit course under the moon and stars.
Riverdale Golf Club
Design partners Jon Morrow and Al Tikkanen crafted an intriguing challenge, featuring an "up hill and down dale" course, which is unprecedented among the Thai capital's predominantly flat golf landscapes. Several holes feature play from elevated tees to fairways in valleys below. Forested hills and native grasses frame the most clearly visible golf holes in Bangkok.
Alpine Golf Club
Alpine Golf Club is one of Thailand's finest golf courses and offers members a new dimension of golf challenge. Designed by one of the world's most renowned architects, Mr. Ron M. Garl, this hilly course provides plenty of fresh air, beautiful lakes, and dazzling tree-lined scenery.
Subhapruek Golf Course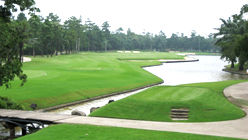 Beautifully shaped bunkers, sparkling lakes, and large trees frame the undulating turf of Subhapruek Golf Course. Its lush gardens burst with tropical floral vegetation, spectacular waterfalls, and glistening brooks. All of these natural elements are aesthetically and strategically shaped into the finest golfing terrain in greater Bangkok.
The Vintage Club
Surrounded by picturesque natural landscape, the Club House is a Tudor English Style building centered around a charming fountain. The Club House features a dining room, reception space, locker area, and sport complex. Its comfortable design was conceived by Arthur Hills, the chairman of the Golf Course Design Association of America.
Lam Luk Ka Country Club
A short drive from Bangkok's thriving metropolis, Lam Luk Ka supports an unforgettable golf experience. Both courses meander through Bangkok's wetlands, where over 100 species of birds and wildlife live amongst its waterways and thousands of trees. After your round, relax with a swim, or indulge in Thai and international culinary delights in the clubhouse restaurant.