Feast offers buffet for lunch and dinner with a wide variety of food from around the world including Thai, Chinese, Japanese, Indian and Western dishes. From freshly-rolled sushi and oysters to wood-fire pizza, exotic desserts and BBQ Grill. Feast is sure to please every age and every taste.
For more information or reservations, please call Tel: +66(2) 266 0123 or e-mail: events.rosh@sheraton.com
Sunday Brunch Buffet
Price at THB 2,000 nett / person
The selection covers a great range of cuisines including; Thai, Chinese, Japanese, Indian, Italian, French — it's all there! Seafood highlights include Lobster, Alaska crab legs, New Zealand Mussels, Oysters, Scallops, Salmon and King prawns. Live cooking stations showcase grilled and roasted meats, such as Lamb, Steak, Duck and more as well as international flavors with an Italian pasta corner, Chinese cuisine offering Dim Sum, Peking duck, suckling pig, Indian delights, Japanese highlights and many more.
Operating hour: Every Sunday from 11.30 AM - 3.00 PM.

Price: THB 2,000 nett per person with free-flow blended fresh juices
* additional THB 800 nett for free-flow premium beverage package
International Lunch Buffet
Price at THB 790++ / person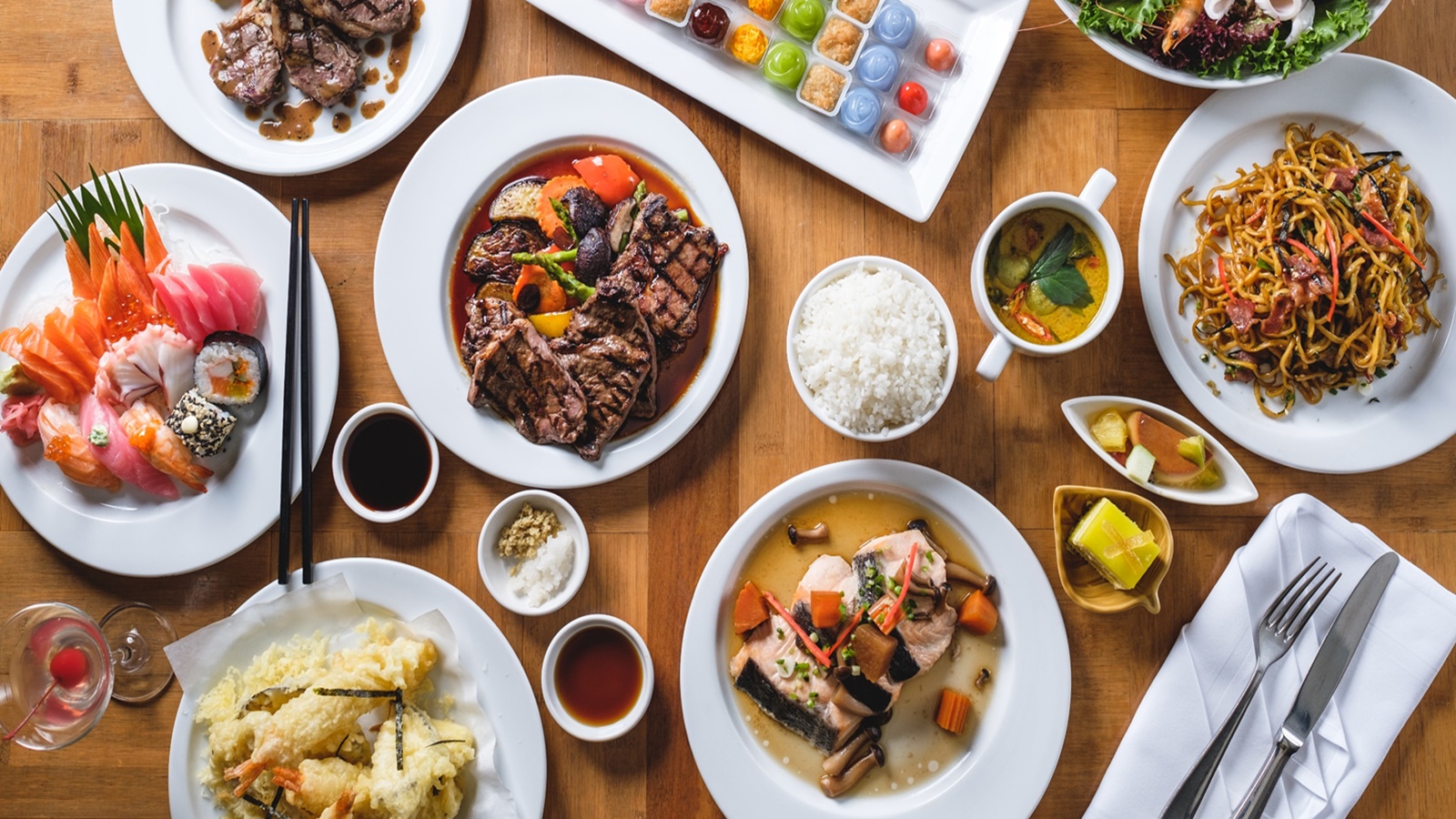 Feast offers up a glorious array of International culinary delights to satisfy all lunchtime cravings. Covering several global corners of the world, traditional delicacies and cuisine-favorites from Thailand, China, Japan, India and Europe make their appearance on this delicious buffet spread, including freshly-rolled sushi to wood-fired pizza to exotic desserts.
Operating hour: Monday– Saturday from 12:00 PM - 02:30 PM.
Price: THB 790++ per person.
International Dinner Buffet
Prices start from THB 1,090 / person
INTERNATIONAL DINNER BUFFET
An exploration around the gastronomic corners of the world, Feast offers an array of succulent dishes atop a plentiful buffet spread. Sourced with both local and international flavors, indulge at your leisure throughout the evening on the wide variety of seafood on ice, Thai delicacies, Chinese treats, Japanese delights, Indian curries, and Western staples—the tastes available are delectable and endless.
Operating hour: Sunday - Tuesday from 6:00 PM - 10:30 PM.
Price: THB 1,090++ per person.
INTERNATIONAL JAPANESE BUFFET
Elevate your taste buds as you feast your way through a variety of Japan's finest gastronomic highlights, such as the Skipjack Tuna Tataki Salad that is prepped and ready to serve your oriental cravings. Paralleling the eastern delights are a wide array of International dishes—there are flavors and tastes for everyone from everywhere that will ensure a pleasurable dining experience.
Operating hour: Wednesday - Thursday from 6:00 PM - 10:30 PM.
Price: THB 1,250++ per person.
*Prices are subject to 10% service charge and applicable government tax.